A Voice for Community Supported Agriculture




The Community Farm is a quarterly newsletter especially for people interested in Community Supported Agriculture (CSA), but we hope it is useful to anyone with an interest in sustainable agriculture, family farms or anyone who cares about current issues facing farmers.

Click here http://csafarms.org/csaresources.asp to go to a new site for The Community Farm. The new site will be updated more frequently than this one and will also have sample issues that you can download. And without any of those annoying popup ads!

Click here http://thecommunityfarm.yolasite.com/ to go to a new site The Community Farm and Table, the new name for The Community Farm newsletter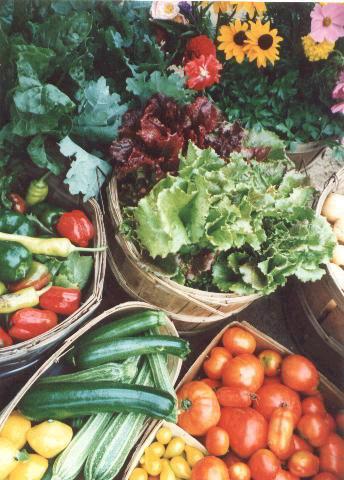 The Community Farm
At a time when farms are disappearing at an alarming rate, and some refer to family farms as an endangered species, Community Supported Agriculture (CSA) can offer a path to farm preservation, stability and profitability, at the same time that it connects people with their food supply and builds community.

a midsummer harvest
the wide variety of veggies availble from a CSA is only one of the benefits of joining a CSA farm
Our Goal...
is to provide a forum for growers, CSA farm members and prospective CSA farmers: a place for us to explore ideas, techniques and situations specifically related to CSA interests. We work to make the newsletter appealing to anyone with a general interest in organic farming practices, small farm preservation, and sustainable agriculture.

Each Issue...
of the newsletter features articles of special interest to CSA or other farmers, farm members and others. Recent examples include advice for forming a core group, holistic management and drip irrigation. Essays from CSA farmers, ag professionals or farm members are featured. We share tips and techniques that have worked for CSA farmers. Reports on research, reviews of books, advice on Plowing the Web (the World Wide one, that is) are regular features.

For subscription information, email us or vist http://www.csafarms.org for contact information and links. Look for us in the Resources section

email us at thecommunityfarm@gmail.com to request a sample issue
We can send an email text or pdf attachment or a printed copy via US mail. Please include your US postal address for a sample copy of the next issue.



site updated September 2010

For information about our CSA, Highlands BioProduce, Tri-Cities area of NE Tennessee/ SW Virginia visit:
Highlands BioProduce CSA